Prayers Art Show & Concert Benefit for Casa 0101
"Our Voices through Art & Music"
Come Celebrate! SATURDAY, DECEMBER 5TH, 2015, 11:00a.m.-7:00pm @ CASA 0101 Theater: www.casa0101.org
The launch of "Prayers" An Art Show & Concert Benefit Fest for Casa 0101 @ Casa0101 – Prayers: from Los Angeles, Our Voices through Art & Music.
FEATURING the ART of: Margaret Garcia, Heriberto Luna, Shea Stella, Javier Herrera, Brett Doran Photography, & the Circle of Women Artists of the Stamp Project: Creating Cultural Currency.
& the MUSIC of: Latin Grammy nominated Demain Galvez of Centavrvs & Los Dorados, Sound Ministry Gurus music production collective w/ Derek O'Brien & Stan Dewitt, Extra Fancy (Acoustic Set) w/ Brian Grillo Songs by Corrina Carter, Nataasja, & glam folk songwriter Jellykka. Production & documentation by Loaded Bomb Records & Productions. Graphic Art by Green Lion Design Studio's Martin Gonzales.
& an Inclusive Art Exhibit by the Community of Los Angeles, through "Prayers" – shared voices through our shared miniature art pieces. Please bring your art prayer piece to be included and hung in this inclusive community exhibit! Everyone who brings a piece is invested!
& Scentsible Life, Wellness Center's Andrea Shally & Sharon Munatones will offer Essential Oil Therapy Mini Sessions (Donation basis) for attendees w/ Therapists Sharon Munatones & Andrea Schally. Gemstone packages, essential oils will also be for sale.
& SPEAKERS! Founder of Scentsible Life, Andrea Schally will give a 15 min talk on "Opening the Heart & Healing" on the main stage at 2:30pm, Casa0101 Speaker at 3:00pm. Benefit concert starts 4:00pm EVENT ENDS 7:00pm.
https://www.facebook.com/events/481177512055919/
https://www.facebook.com/PrayersFromLosAngeles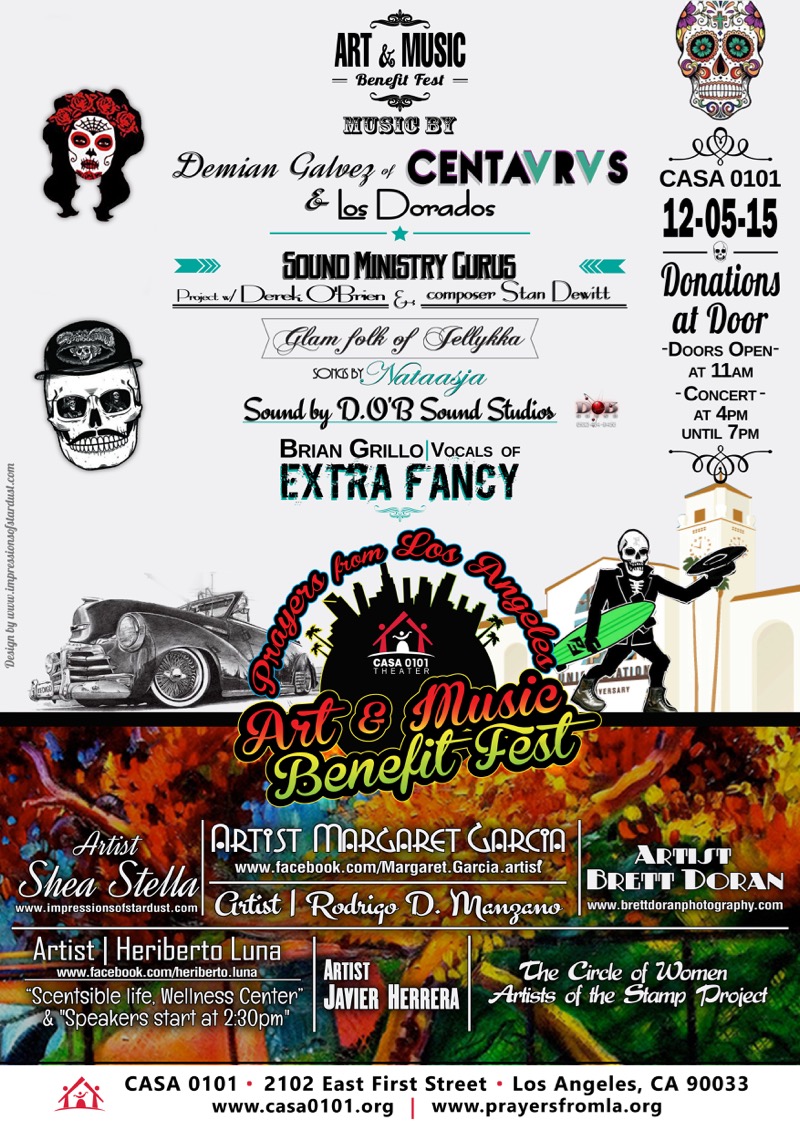 AN INCLUSIVE COMMUNITY ART EXHIBIT & BENEFIT CONCERT:
Let's come together & have our voices be heard through art & music!
The community is invited to participate & be heard!
Inclusive Gallery Exhibit by the Community of East Los Angeles through "Prayers"
(Your miniature art pieces are encouraged & will all be displayed.)
All involved in the event/exhibit will be catalogued & part of the new book "Prayers: from Los Angeles"
FREE ADMISSION:
DONATIONS ENCOURAGED!
Entry Ticket (Sliding Scale $5-$20+)
Entry ticket INCLUDES admission to Benefit Concert 4 pm & is good for the entire Day's Events.
100% of door proceeds go to benefit Casa 0101.
For Art Benefit Sales: 50% of proceeds will go in Benefit & 50% to the artist. [Higher percentage may be chosen per artist to go in benefit.]
Proceeds from proceeding publication will go in benefit to chosen event cause and 3 other local causes per annum.
Donate to Casa0101 now!
The world is a chaotic place that seems to grow more painful for us to endure & more overwhelming as we try to express our concerns. As a people, we have lot of anger, a lot of hurt that we cannot sustain. We will hang your positive wishes & concerns. We want to invite the community to bring a "prayer," a small/miniature art piece/ painting or drawing/ photo, etc that shows & tells their individual prayer, wishes, hopes, & dreams for the world today. This event will be a small step towards our collective healing. To take that step, we must make ourselves be heard, esp. where & when we are ignored. What better way to share with each other & support one another than through the precious & accessible medium of art & music.
We will pray together. Share together. Give each other a voice in this special & universal way. We won't just continue to shout & scream at injustice; We put aside ego & speak with each other, sharing our varying interesting & worthwhile perspectives with our art & music. This portion of the benefit event is an INCLUSIVE COMMUNITY EXHIBIT.
Anyone from the community who brings a "Prayer" may hang it up on the walls for all to see & interpret. Everyone will also be a part of the proceeding publication Prayers: from Los Angeles.
Our goal is for this themed Prayers Day / Event to grow worldwide; Choosing a day once a year to come together and accomplish being vocal as we share our Prayers through miniature individual art pieces within our communities. Cultivating positivism and healing together.
"I think that there are certain ideas that are only powerful if you share them, they only matter if you share them. It's kind of like love. Love doesn't exist in a vacuum you have to share it in order for it to have meaning. And for me, the idea of doing this, these series of prayers is an idea of sharing. I started first by doing very small, miniature portraits of concerns of mine…
Los Angeles Artist/Activist/Founder, Margaret Garcia
MERCH/ VENDING/ ART SALE:
As the holidays are around the corner, buy presents that go to a good cause!
Aside from the all day
Art Benefit Sale
. Handmade limited edition art posters, art prints, & merchandising will be for sale. Including music CD's/ merch/ & memorabilia. Additional vendors to be added from local businesses & artists from Highland Park, to be added! This means more in benefit, plus more involvement by the local community to share in this "Prayers" Art & Music Event. Local
VENDORS
interested, please contact us!
GIFTS: Limited edition art posters will be given as gifts to participants of this amazing historic benefit event for Casa 0101. Those who have volunteer their time, efforts, & support. We thank you!
CASA 0101: (the Benefit/Cause)
Along the lines of sharing, of voices, of prayers, wishes, & story-telling, of performance, art, music & community.... Proceeds will go to benefit Casa0101: CASA 0101 is dedicated to providing vital arts, cultural, and educational programs — in theater, digital filmmaking, art and dance — to Boyle Heights... View on
www.casa0101.org, http://www.casa0101.org/mission-statement
Casa0101, a non-profit whose focus is to give voice to the community especially for the under-represented & often ignored demographics. It is about story tellers & the effect of stories on shaping the world, our views of it & how we live in it. Casa0101 brought art & live performance/ theater to the community of East Los Angeles & has established itself as an arts venue for LA East side, presenting theatrical productions, film festivals, & special events, free classes in acting & other arts disciplines for youth, & free/low-cost classes for adults in acting & writing. The message: Our voices, storytellers, have the power to change & shape this world. Speak up. Put yourself out there.
PRODUCTION/ DOCUMENTATION: Larry Ramirez of Loaded Bomb Records & Productions, of the Hi Fi Rock Fest, will help document. Graphic Art by Green Lion Design Studio's Martin Gonzales.
COME ON OUT! THE COMMUNITY OF LOS ANGELES IS WELCOME TO JOIN US FOR THIS SPECIAL EVENT.